Installs in Minutes with No Tools!
Weatherproof, Insulated, Tight Seals!
Secure Locking Mechanism!
Durable Lab-Tested Lock!
Flap Adjusts for Your Growing Pet!
Removable Windows and Screens!
Remove and Transport Easily!
Fully Warranted!
The Only Pet Door
Panel with
Double Pane Storm Windows and
Screens!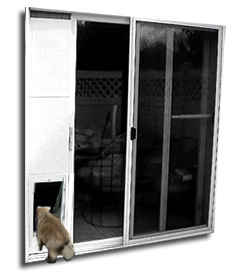 A truly unique patented patio pet door panel design incorporating state-of-the-art materials and construction. Three modules slide together to form the pet door panel and are of a solid face quadruple wall construction with enclosed air pockets providing a superior thermal barrier and privacy when in use. The only truly portable pet portal for sliding glass patio doors. The patented modular construction permits the panel to be transported and stored in a shipping case nearly one third the size of other patio pet door panels. Every component of this unique pet door panel is removable and reusable. The bottom module contains a patented adjustable height pet portal incorporating a patent pending cassette flap assembly. The cassette flap assembly slides out of the bottom module for flap replacement and to permit the bottom module to be inverted to change the rise and height of the pet door opening. When finished the cassette flap assembly slides back into the bottom module absolutely no need for tools of any kind.
Website Price - $229.99
We are currently sold out and may not have additional inventory for several months until our next scheduled production campaign.
Product Features
Modular quadruple wall construction with internal air pockets – superior thermal barrier.
Raised panel inserts block the sun's rays on hot sunny days while providing privacy when in use.
The only truly portable patio pet door panel.
Unique leading edge design may eliminate the need to remove the patio door latch to install.
Will fit left & right opening patio doors.
Wedgit panel will fit patio doors with a height range of 76" to 80" with available spring loaded height adjuster panel.
Only pet door panel with "no tools required" pet door height adjustability to fit small or large pets.
Only pet door panel with patented cassette flap assembly – slides out for service & in for use.
Comes with patented Wedgit Twist Tight adjustable patio door lock.
The adjustable patio door lock pushes the patio door & pet panel against the patio door frame for a secure and effective weather tight fit.
The included draft eliminator attaches to the moveable patio door to seal against the glass in the stationary patio door to prevent air and insect infiltration.
No need to alter the patio door for installation so the manufacturer's warranty stays intact.

For further information, please call us Toll-Free at 1-866-763-3338 or email us at: info@wedgitpetdoors.com
Email:
info@wedgitpetdoors.com
Copyright ©2012 - 2019
Wedgit Patio Pet Doors
All Rights Reserved
Last Update: February 26, 2021
Accession, Inc.
P.O. Box 8910, Trenton, NJ 08650
Toll Free: 1-866-763-3338
Patent No. 7,207,141 and other patents pending